So you have upgraded your PC to windows 8 with AutoCAD 2015 and discovered a nasty error in AutoCAD –
This plotter configuration cannot be used for one of these reasons: the driver cannot be found, the device cannot be found, or the driver has a problem. the None plot device has been substituted.
Solution –
1. Setup the HP designjet plotter by using windows update. DO NOT attempt to get drivers from HP or elsewhere, just go with the ones supplied in windows update. Use this driver to print from Acrobat or any other windows based application (other than Autocad of course!)
2. In Autocad go into options, and then plotter setup. Follow the wizard to create a new plotter in autocad based on the HP Designjet 750c, but as a destination select the IP for the plotter with a 'problem'. See step by step images below starting from Options -> Plot & Publish
When in Autocad use the driver you created, when in windows use the system driver – simples!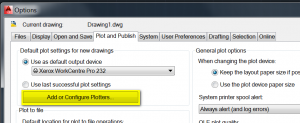 Once you have created this on one pc the PC3 file can be copied to other machines using windows explorer. The location it needs to be copied to is –
C:\Users\%username%\AppData\Roaming\Autodesk\AutoCAD LT 2015\R20\enu\Plotters